Merry Christmas, Jane Austen

​Explore the Christmas traditions and festivities of early nineteenth-century England, depicted in Jane Austen's novels and personal letters. Discover the significance of certain holiday observances in the Regency Era, and trace their evolution to contemporary celebrations. Kick off the holiday season with this fun and festive class, and you may be inspired to incorporate Austen-inspired elegance and glamour into your own celebrations.  

Thursday, November 30th

7:00 - 9:00 p.m. - SMUMain Campus

$39 course fee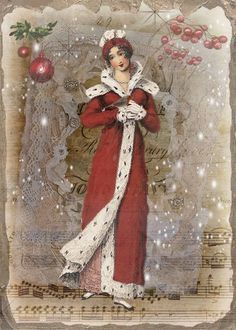 Casanova:  The Seduction of Europe
Kimbell Museum

August 27 - December 31, 2017

Casanova: The Seduction of Europe explores the 18th century across Europe through the eyes of one of its most colorful characters, Giacomo Casanova (1725--1798).  
Bringing together paintings, sculpture, works on paper, furnishings, porcelains, silver and period costume, Casanova will bring this world to life.
10 Reasons Writers  & Readers Adore Jane Austen

Signature Reads article

On-Line Jane Austen Role Playing Game
The Guardian article

Jane Austen is the Heroine of Her Own Story

USA Today article

Signature's Essential Guide to JaneAusten

Free Guide

Enjoy a Jane Austen Weekend at 
The Governor's House in Hyde Park,

A Charming  & Historic Vermont Bed & Breakfast

2017 Weekends Now Open for Booking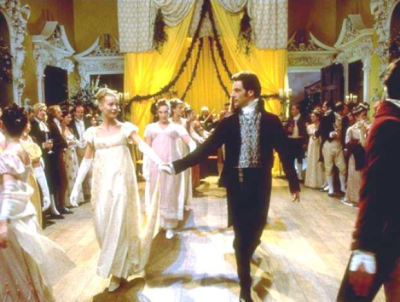 English Country Dancing
Do you fancy dancing and English Country Dancing in particular?  You are invited to visit the Collin English Country Dance group which meets at least once monthly and has two annual balls.  Check their website through the link below for more information.
Maureen Kelly, Jane Austen Scottish Branch Chairman, has assembled three outstanding Jane Austen-inspired recipe books and made them available to the North Texas Region to sell and retain the proceeds.   Recipes in these splendidly-done books bring a smile with their clever names such as the decadently chocolate Wicked Wickhams (a Scottish Branch favorite), Box Hill Buttons or Cassandra Crumbles.  And you won't want to miss Norland Gingerbread or Lyme Regal Cake, etc. etc.  And the soups!  Butternut de Bourgh, Chawton Chestnut and Crawford Carrot and the renowned White Soup among many others.  A delicious delight on every page.

                         Tea Treats           32 pages          $8.50

                         Tea Treats 2        24 pages          $7.50

                         Superior Soups   28 pages          $7.50 

The recipe books are available for purchase through the link below.  You can purchase one, two or all three - the choice is up to you!  Books will be available for pick up at the September and December meetings.  These would make delightful Christmas gifts for every Janeite and you'd be benefiting the North Texas Chapter in offsetting future meeting costs.    
Jane Austen-Inspired Recipe Books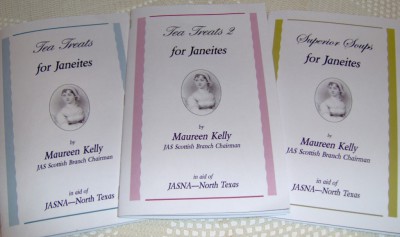 Do you like to quilt?  Do you like Jane Austen?  Do you enjoy sweet conversation while stitching your own personal heirloom?  If you answered yes to any of the questions above, you need to check out  The Jane Austen Quilt Group which meets every fourth Saturday of the month from 10:00 a.m. until 1:00 p.m..  Location address and additional information is listed below.  There is a monthly "Show and Tell", work on small projects or bring something with which you're needing help to finish. 

Be ready for a stitching good time!  

Cabbage Rose Quilting & Fabric Shop

3000 Montgomery St.

 Fort Worth, TX 76107

Every 4th Saturday of the month

10:00 am - 1:00 pm.

Cost:   $84 per year OR $42 for six months

Click the link above to check out the Cabbage Rose Quilting and Fabric Shop website.